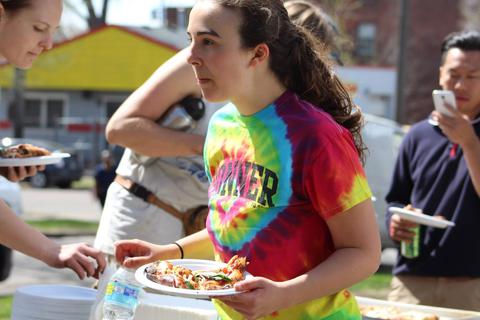 This past Saturday, Fire on the Bluff turned the corner without even leaving our driveway.  How fitting that our inaugural event would take place not just in Dayton's Bluff but on our block.  The Dayton's Bluff Community Council and Urban Roots asked us to cater a pizza lunch the volunteers renovating the Youth Garden at the corner of 3rd Street and Maria Ave -- the next block down from us. 
30 folks spent the day tilling, weeding and building.  At noon they wandered over to our driveway where we were cooking and serving up hot-out-of-the-oven pizzas.  
Menu included classic American sausage (from Morelli's of course) and cheese, fire-charred eggplant purée and tomatos, margherita with Thai basil (from Hmong Village), and a few other requested varieties.  We maide it a neighborhood affair.  Neighbor Chef Stefan made his delicious red sauce and manned the pizza pulling and topping station. Kirstin and Stefan's daughter Emily set up the eating and serving areas and made sure everyone had what they needed. 
After lunch our daughters and their neighborhood friends set up a lemonade stand that attracted not just thirsty garden workers but also St. Paul City Council candidate Jane Prince and two St. Paul Police squads as customers. 
We're looking forward to weekend 2 of the renovation this upcoming Saturday when we'll be setting up lunch again.  What a beautiful day and an auspicious beginning for both our business and the season!