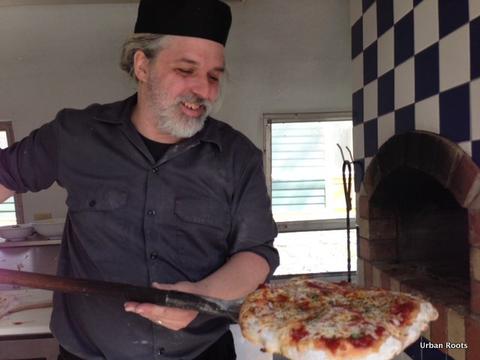 After a glorious Saturday serving up pizzas for volunteers renovating Urban Roots' garden in our neighborhood, we did it again the next week.  The weather was supposed to frown on us but it turned out just as glorious and sunny as the first week.  So, too, were the conversations over pizza.  Lots of passers-by visiting the houses on our block that were participating in the Minneapolis St. Paul Home Tour stopped by to see what was going on and to sample a slice of Fire Bluff pizza magic.  It was a great day bringing community and food together in service to the crucial work Urban Roots is doing to help increase sustainability here in Saint Paul. 
Thanks again to Urban Roots for the opportunity and for blogging about it (click on the link below).
If you scroll waaayyy down, you'll see a photo of me pulling a pizza from the oven with a very rare smile.